Whoever said it's not easy being green obviously didn't have a friendly neighborhood Co-op. Here's a round up of our favorite products that make it EASY to be GREEN!
Klean Kanteen offers style & sustainability in ONE cup! These stainless steel tumblers are perfect for toting around your hot coffee, tea, kombucha, or drink of choice.
Made from recycled plastic, this small but mighty compost bin will keep your home odor-free while keeping your commitment to being GREEN!
Hudson Valley Seed Co. offers beautiful heirloom & open-pollinated seeds for a variety of vegetables, flowers & herbs. Artists submit their work to be featured on the packaging, making these truly beautiful, from start to finish!
We're SO OVER single-use plastic! Replace those plastic straws with some stainless steel ones!
Bring your own reusable containers and shop in bulk for zero-waste grocery shopping!
Kiss the plastic cutlery goodbye & say hello to To-Go Ware! These lovely utensils come in a handy dandy traveling case too!
Aunt Fannie's simple yet powerful cleaners are made using just pure, SIMPLE ingredients. You won't be able to resist their fresh scents (Eucalyptus, Lime Mint, or Lavender) and undeniable cleaning power!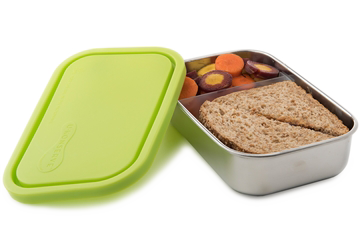 Pack your yummy snacks & lunches in these non-toxic stainless-steel storage containers from UKonserve & save the planet one sandwich at a time!
Bring your own bags! Our colorful organic canvas tote is traceable from seed to store, made by a women's cooperative in India.
Made from recycled tennis balls, scrap yarn & wool fleece, CATA's dryer balls reduce your dryer tom to help save energy!